Safety Reminder and Back to School Night
Please read important information related to safety. We look forward to seeing you tomorrow night, at Back to School Night!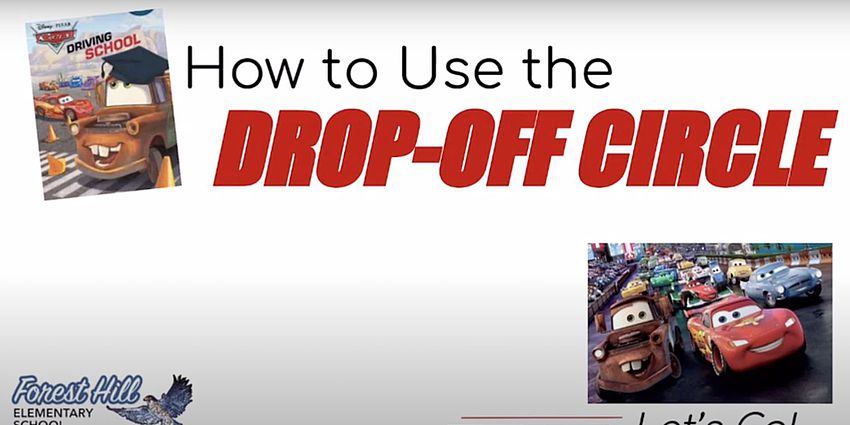 Dear Forest Hill Parents,
As we move into our second full week of school and will soon move into the new month of September, we have some friendly reminders about pickup/drop-off and parking that will increase the safety of our campus and support our community members. A concern that all schools have is how to contend with the busy 15 minute period each morning and afternoon during drop off and pick up. At Forest Hill, we have the added challenge of current construction. Luckily, we also have an amazing tool in this guide to making drop off and pick up as smooth as possible! If you haven't looked it over before, please take a minute to do so. Thank you to parent Rich Wong for putting the guide together for us.
When you enter the drop off circle, pull all the way up as far as you can - don't leave any open parking spots.

Drivers MUST remain in the vehicle at all times. Students need to unbuckle themselves and open and close the car door themselves.

Staff members helping in the drop off circle are there for our children's safety. Please be respectful and follow their directions. 

If you have both primary and upper grade students, you may be asked to circle around after picking up your younger child to allow other parents to enter the drop off circle. If you would rather not do this, you can always park in the neighborhood and walk over to school to pick up both children. 
Please see the general following friendly reminders:
Parking is allowed on side streets only

All of our parking lots are for staff parking only

Parking or lining up in the bus loading/unloading area is not allowed

Parking in red zones is not allowed
If you have a child that needs assistance in getting to the classroom, please arrange for an alternative plan. This may include contacting your child's teacher or arriving to school early to allow for parking and walking. Getting out of your car holds up the loop and causes a traffic back-up on McCoy Ave., which impacts our community.
Additionally, at dismissal, particularly on Wednesdays, we cannot hold up traffic while waiting to get in the loop. We must circle the neighborhood until the loop opens up. Again, this impacts the traffic flow in our neighborhood.
When we all follow the guidelines, drop off and pick up go quickly, smoothly, and ensures all are safe.
 We look forward to seeing you September 1st at Back to School Night. Please remember this is an adult only event. 
6:00-6:30   TK-2nd Grade

6:30-7:00   General Meeting w/ Administration and PTA (meet at lunch tables)

7:00-7:30   Grades 3-5
Warmly,
Christy Chalfant, Principal
Chelsea Armann, Assistant Principal