Monroe Middle School Teacher Celebrated at County Event
AVID Teacher Josh Pizzica represents district at annual Teacher of the Year celebration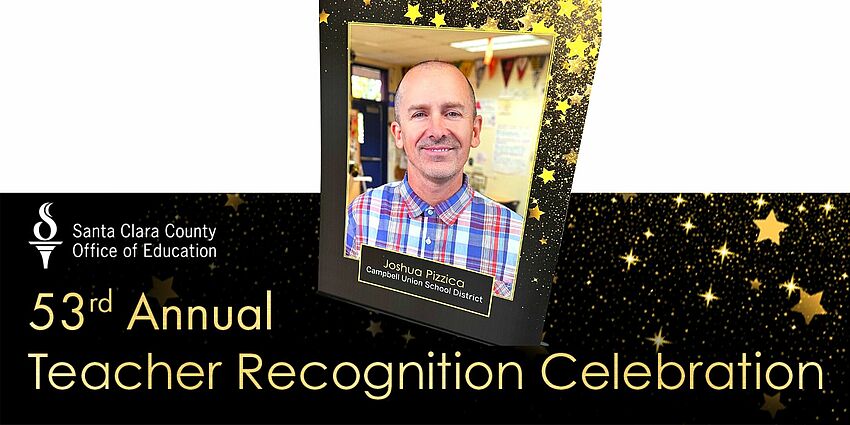 "I enjoy getting to know my students, finding out what motivates them, and figuring out how to help them get excited about learning and gaining the confidence to act," says Josh Pizzica, Monroe and Campbell Union School District's Teacher of the Year. His ability to build relationships and inspire learning is one of many reasons he was celebrated at the Santa Clara County Office of Education's annual Teacher Recognition event.
Pizzica teaches one of the Advancement Via Individual Determination (AVID) classes at Monroe Middle School, and he is avid about helping students see their potential. As the school's AVID site coordinator, Pizzica has advanced the in-school academic support program further by sharing the techniques with colleagues and expanding use of key strategies throughout classrooms within the school.
Teachers using AVID's strategies teach critical thinking, inquiry, and self-advocacy, and empower students to own their learning—which aligns with the district's values and goals. With 40 years of proven success, AVID has shown that, regardless of their life circumstances, AVID students overcome obstacles and achieve success. They graduate and attend college at higher rates, but more importantly, they can think critically, collaborate, and set high expectations to confidently conquer the challenges that await them.
"Josh's leadership has re-ignited the AVID work at Monroe Middle School, and our students are seeing the benefits," said Principal Ruth Stephens Radle. "Our teachers are incorporating the techniques into their lessons, and more students are engaging in goal setting and connecting to  real-life topics and ideas."
To learn more about AVID, visit AVID.org.